fri02sep(sep 2)8:00 pmsat03(sep 3)11:00 pmFeaturedPETE KRONOWITT8:00 pm - 11:00 pm (3)
Event Details

If Steve Earle and Elvis Costello got pissed enough to write political tunes, they would sound like Pete Kronowitt songs. Can songs be mischievous? Gimme a hell yeah. Truth can be found in the darkest places and hope sometimes has a melody. Pete writes songs with hooks, a dash of alt-country, a smidgen of something familiar yet new; catchy songs ranging from acoustic alternative pop and country to Indie and progressive lyrical phrasing, but who likes being put in a category?

Pete founded Face the Music Collective, a guide for creative activists utilizing performances to inspire targeted individual action, one event at a time. With 5 albums to his credit, Pete Kronowitt combines performing and activism. Pete's new album, Do Something Now, is targeted for a 2020 summer release.

A Lone Voice was recorded and produced in Nashville, Tennessee by Grammy-winning songwriter Phil Madeira, with backing musicians David Mansfield on guitars, mandolin and violin, Dennis Holt on drums and percussion, Chris Donohue on bass, and of course, Phil Madeira on guitars and keys.

Pete's freshman project, Phases of the Heart, ranges from 'acoustic pop-gressive' to slow and earnest ballads. It was recorded in 1993 at Rutabaga Studios with John Alagia, whose production credits include the Dave Matthews Band, John Mayer, and Ben Folds Five. Kronowitt's second and third albums, Threads and elements, were produced by Pete Snell, who toured extensively with Lyle Lovett. The songs from elements explore the full spectrum of relationships, from the first tug of the heartstring, to the first salvo of war, to saying "goodbye" reality TV-style. The album creates an interwoven narrative of friends and family with an emotional perspective on everyday struggles, and its centerpiece, 'Now It's We,' is a wedding song that explores trust, respect, and friendship.

Pete Kronowitt has toured internationally in China, Japan, and Vietnam, and across the US in the last few years with long-time friend and collaborator bassist John David Coppola, including shows in Florida, Los Angeles, San Francisco, and Portland. John has over 30 years of experience, including two years touring abroad with The Danny Morris Band, and was integral on Pete's first album Phases of the Heart, where he played upright bass.

Pete Kronowitt's music resonates with truth and an unwavering belief that people can use their voice to demand common sense solutions. The people of these great United States are bound by the many things we have in common, and must reject those manufactured issues which divide us. With his revolut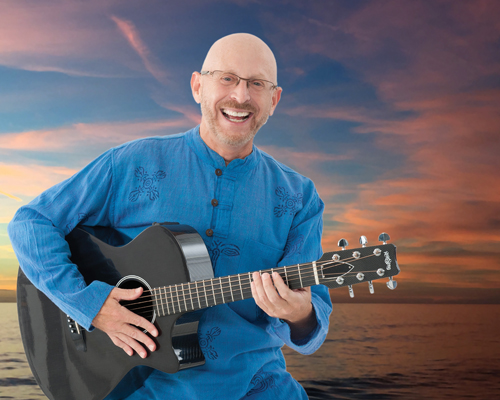 ionary new album, A Lone Voice, Pete Kronowitt has called for a rediscovery of the protest song…and not a moment too soon.
Special guest Len Seligman will join us:
"Len Seligman lights up the audience every time he takes our stage. He crafts wonderful songs that are often light and funny and always heartfelt and performed with perfection." (WKDW 97.5 FM). His awards include First Place, Great American Song Contest, and 4 Washington Area Music Award ("Wammie") nominations. His music videos (including Red Tide Rick) have over 50,000 views.
Time

2 (Friday) 8:00 pm - 3 (Saturday) 11:00 pm